Agricultural Chemicals Bactericide Bactericide Agrochemical Fungicide 119446-68-3 Difenoconazole
Product Description
Appearance: Powder Toxicity of High and Low: Highly Toxic and High Toxic Drugs Toxicological Effect: Physical Agents Apply Crops: Most Plant Cabbage, Cotton, Rice, Maize, Citrus Specification: 10g/ small bag and vary HS Code: 2930909051 Source: Inorganic & Mineral Mode: Stomach Agent Formulating Vary: 95%Tc, 12.5%Sc, 25% Sc, 80% Wdg Trademark: Fuang Origin: China Difenoconazole   IUPAC:3-chloro-4-[(2RS,4RS;2RS,4SR)-4-methyl-2-(1H-1,2,4-triazol-1-ylmethyl)-1,3-dioxolan-2-yl]phenyl 4-chlorophenyl ether 1-[2-[2-chloro-4-(4-chlorophenoxy)phenyl]-4-methyl-1,3-dioxolan-2-ylmethyl]-1H-1,2,4-triazole CAS No.119446-68-3 Molecular Formula: C19H17Cl2N3O3   Category Fungicides > Triazole fungicides   Activity
Fungicide
  Premix
Chlorothalonil+difenoconazole
Azoxystrobin+difenoconazole
Difenoconazole+fludioxonil
Fludioxonil+azoxystrobin+difenoconazole
Mandipropamid+difenoconazole
Fludioxonil+difenoconazole
Imidacloprid+Fludioxonil+Difenoconazole
difenoconazole+metalaxyl-M+sedaxane+fludioxonil
difenoconazole+metalaxyl-M+sedaxane+fludioxonil
Difenoconazole+Propiconazole
Difenoconazole+Kresoxim-methyl
Prochloraz+Difenoconazole
Difenoconazole+Carbendazim
Difenoconazole+Sedaxane+Fludioxonil
Difenoconazole+Sedaxane+Fludioxonil
Foliar: emulsifiable concentrate, water dispersible concentrate, suspension concentrate. Seed treatment: water dispersible powder, flowable concentrate. Premix Parters: bromoxynil ioxynil; chlorotoluron; cyanazine; flurtamone; flurtamone isoproturon; isoproturon.   Physical Properties Molecular weight:406.3. Physical form:White to light beige crystals. Density:1.40 (20 °C); Composition:Ratio of cis- to trans- isomers is in the range 0.7 to 1.5. Melting point:78.6 °C; Vapour pressure:3.3×10-5 MPa (25 °C); Henry constant:1.5×10-6 PA m3 mol-1 ( calc.). Partition coefficient(n-octanol and water):logP = 4.20 (25 °C). Solubility:In water 15 mg/l (25 °C). In ethanol 330, acetone 610, n-hexane 3.4, n-octanol 95 (all in g/l, 25 °C). Stability:Stable up to 150 °C. Hydrolytically stable.   Toxicology Oral:Acute oral LD50 for rats 1453, mice >2000 mg/kg. Percutaneous:Acute percutaneous LD50 for rabbits >2010 mg/kg. Non-irritant to eyes and skin (rabbits). Non-sensitising to skin (Guinea pigs). Inhalation: LC50 (4 h) for rats 3300 mg/m3 air. Phytotoxicity:In wheat, early foliar applications at growth stages 29-42 might cause, in certain circumstances, chlorotic   Environmental Profile Ecotoxicology: 
Algae: EC50 (72 h) for Scenedesmus subspicatus 1.2 mg/l.Bees:Non-toxic to honeybees; LD50 (oral) >187 µg/bee; LC50 (contact) >100 µg/bee.Birds: LD50 (9-11 d) for mallard ducks >2150 mg/kg. LC50 for bobwhite quail >4760, mallard ducks >5000 ppm.Daphnia: LC50 (48 h) 0.77 mg/l.Fish:50 (96 h) for rainbow trout 0.8, bluegill sunfish 1.2, sheepshead minnow 0.82 mg/l.Worms: LC50 for earthworms >610 mg/ kg.Other aquatic spp.: EC50 (96 h) for Eastern oysters 0.45 mg/l; (14 d) for Lemna gibba 18.5 mg/l. 
Environmental fate: 
Animals:After oral administration, difenoconazole was rapidly eliminated practically to entirety, with urine and faeces. Residues in tissues were not significant and there was no evidence for accumulation.Soil:Practically immobile in soil, strong adsorption to soil particles, low potential to leach below top soil layer. Soil dissipation rate is slow and dependent on application rate. DT50 for photolysis 145 d (natural sunlight).Plant:Two routes of metabolism: one by a triazole route to triazolylalanine and triazolylacetic acid; the other by hydroxylation of the phenyl ring followed by conjugation.
SOIL PARTICLE ADSORPTION: Low soil mobility by strong adsorption to soil particles.
WATER SOLUBILITY: 15 mg/l at 25° C.   Transport Information Signal Word:CAUTION; Hazard Class:III (Slightly hazardous)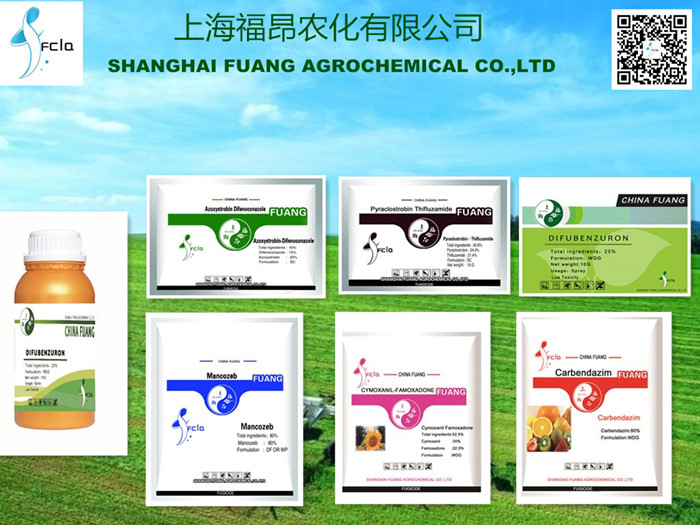 About us:
Shanghai Fuang Agrochemical Co., Ltd. was established in 2005, is the manufacturer of plant protection chemicals. Domestically, we are approved by China Agriculture ministry, Ministry of Industry & information is ranked as "AAA-credit" enterprise by Shandong province. Internationally, we're certified by SGS, ISO9001, ISO14001 and OHSAS18001.
We have 2 factories in 2 cities, covers 35 hectares, with 500 employees, annual productivity 2,000 tons  Pesticide technical (TC) and 500,000 tons formulation agrochemicals, as a 20 top
Insecticide
producer in China.
During 10 years, we established global strategic alliance and international cooperative relationships,  gained technical growing in advanced synthesis and production technologies, complex formulation design, OEM, quality control and customer services, as well as we're improving worldwide distribution channels, especially in South Asia, Latin America, Eastern Europe and Africa.
  Contact  info: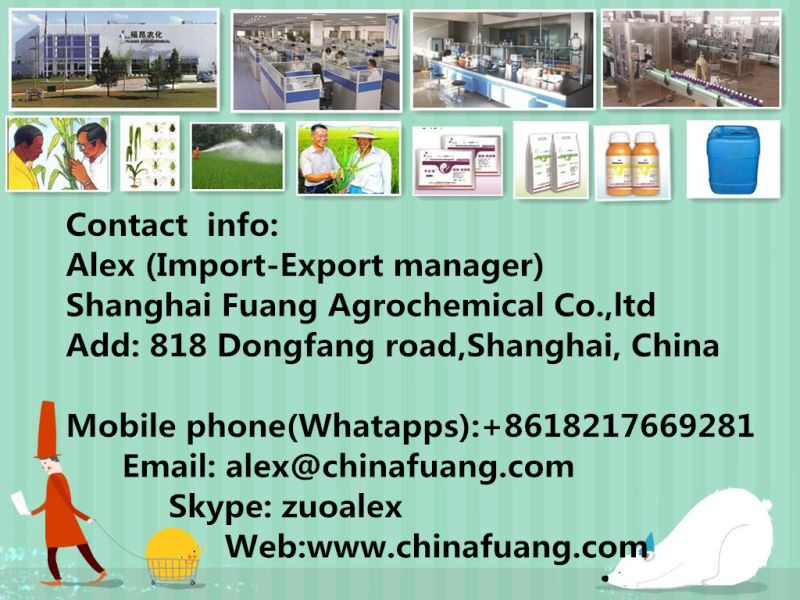 Contact us if you need more details on Difenoconazole. We are ready to answer your questions on packaging, logistics, certification or any other aspects about Fungicide、Bactericide. If these products fail to match your need, please contact us and we would like to provide relevant information.
Product Categories : Fungicides Series > Other Fungicides