Product Description
Model NO.: 40%EC Source: Organic Synthesis Mode: Stomach Agent OEM: Yes Trademark: FUANG Origin: Shandong, China Appearance: Granules Toxicity of High and Low: Low Toxicity of Reagents Toxicological Effect: Nerve Poison CAS: 41198-08-7 Specification: by request, mainly from small 10g to 100kg HS Code: 2926900 CAS No. 41198-08-7   Molecular Formula C11H15BrClO3PS   Category Insecticides > Organophosphorus insecticides   Activity Acaricide/Miticide   Premix Cypermethrin+profenofos
Profenofos+lambda-cyhalothrin
Profenofos+fenvalerate
Profenofos+beta-cypermethrin
Profenofos+phoxim
Emulsifiable concentrate. 
Premix Parters: chlorothalonil; fenamidone; fluopicolide; mancozeb;   Physical Properties Molecular weight:373.6; Physical form:Pale yellow liquid, with a garlic-like odour. Density:1.455 (20 °C) (OECD 109); Composition:Tech. is 98%. Flash point:124 °C (EEC A9); Vapour pressure:1.24 ×10-1 mPa (25 °C) (OECD 104); Henry constant:1.65 × 10-3 Pa m3 mol-1 ( calc.); Partition coefficient(n-octanol and water):logP = 4.44 (OECD 107).; pKa:No dissociation constant between pKa 0.6 to 12; Solubility:In water 28 mg/l (25 °C). Readily miscible with most organic solvents.; Stability:Relatively stable under neutral and slightly acidic conditions. Unstable under alkaline conditions; on hydrolysis, DT50 ( calc.) (20 °C) 93 d ( pH 5), 14.6 d ( pH 7), 5.7 h.;   Toxicology Oral:Acute oral LD50 for rats 358, rabbits 700 mg/ kg. Percutaneous:Acute percutaneous LD50 for rats c. 3300, rabbits 472 mg/kg. Non-irritant to the skin and eyes of rabbits. Inhalation: LC50 (4 h) for rats c. 3 mg/l air. Phytotoxicity:Slight reddening of cotton may occur.   Environmental Profile Ecotoxicology: 
Algae:Toxic to algae.Bees:Toxic to bees.Birds:LC50 (8 d) for bobwhite quail 70-200, Japanese quail >1000, mallard ducks 150-612 ppm.Fish:LC50 (96 h) for rainbow trout 0.08, crucian carp 0.09, bluegill sunfish 0.3 mg/l.Worms:Practically non-toxic to earthworms.Other aquatic spp.:Highly toxic to crustaceans. 
Environmental fate: 
Animals:Rats rapidly excrete 14C-profenofos after oral administration. The predominant metabolic pathway involves stepwise dealkylation and hydrolysis, followed by conjugation.Soil:Mean half-life in soil (lab. and field) is c. 1 week.Plant:In cotton, Brussels sprouts and lettuce, the compound is rapidly taken up and metabolised. The overall metabolic pattern indicates degradation to polar metabolites. WATER SOLUBILITY: 20 ppm   Transport Information Signal Word:WARNING; Hazard Class:II(Moderately hazardous)  
Package of   technical 97%
25kg/ drum
About  us: 
Shanghai Fuang Agrochemical CO.,Ltd is a top 10 agrochemicals and manufacturers group specialized in formulation, pesticide,
Fungicide
, plant growth  regulator and fertilizer.  
We are approved by China Agriculture Ministry. 
 At present, the company has more than 500 employees, it covers more than 357,000 sqm, with 2 production base of technical and formulation, located in Jinan and Binhai Chemicals Industry Area in Shandong Province, East China. And our company is capable of producing 1,000 tons of technical materials, and 8,000 tons formulation each year.
Our  main products:
Insectiside:
Pymetrozine,chlorpyrifos,Indoxacarb,Diflubenzuron,Imidacloprid,Methoxyfenazide,
Alpha cypermethrin,Fosthiazate,Spinosad and  so on.
Fungicide:
Spirotetramat,Mancozeb,Carbendazim,Isoprothiolane,
Azoxystrobin,Pyraclostrobin,
kresoxim-methyl,Trifloxyst,Cymoxanil,Thiophanate-Methyl,Kasugamycin,Difenoconazole,Prothioconazole,
methiadinil,Thifuzamide-isoprothiolane,Fludioxonil etc.
Herbicide
:
Glufosinate-ammonium,Glyphosate,Atrazine,Clodinafop-propargyl,Cyhalofop-butyl,
Oxadiazon,Flucarbazone,etc.
Plant Growth Regulator
:
Gibberellic acid (GA),  Brassinolide  etc.
Environment-friendly fertilizer:
Hemic  Acid fertilizer, Amino Acid fertilizer,
Water Soluble Fertilizer
, Micro-nutrition/Trace-element water
Soluble Fertilizer
and  so on.
Develovping History:
During the 25 years, we established one head office in biggest city Shanghai city China, and 2 factories in SHANDONG prov. - The agrochemical center of China: 
In 1990, factory of "Agrochemical raw material and intermediate" was established in BINHAI Chemical industry park, camping 288,000 sqm; with capable productivity 1,000 tons technical raw materials, and 8,000 tons formulation each year. 
In 2011,we established another factory of "End pesticide & fine agrochemical products" in JINAN Chemical industry park, with camping 69,000 sqm. 
You  are welcoming  contact  us  with  any enquiry  of Agrochemical Agricultural  fugicide herbicide bulk raw  material and formulation products! 
You are welcome to visit our head office in Shanghai.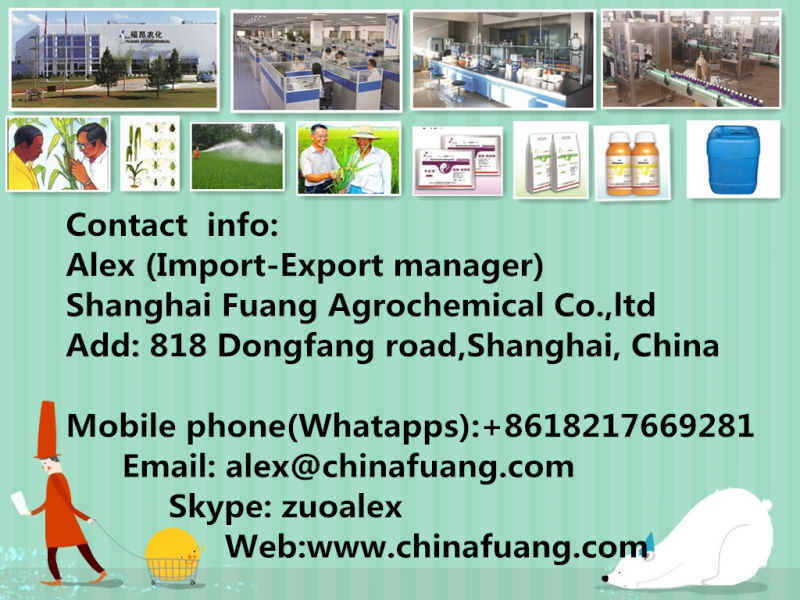 Contact us if you need more details on Phoxim. We are ready to answer your questions on packaging, logistics, certification or any other aspects about Pest Control、Pesticide. If these products fail to match your need, please contact us and we would like to provide relevant information.
Product Categories : Insecticide & Pesticide